1. The Fundamentals of Life
1.3. How Organisms Acquire Carbon and Energy
Video
[Sorry, the video "How organisms acquire carbon and energy" has not yet been published. There is some
text
and a
learning check
, though.]
Text
What do organisms use carbon and energy for?
Carbon
Build up cells
Example: Cell division
Energy
Perform energy-consuming reactions
Examples: Movement, cell division
ATP – The cell's energy currency
Model of an ATP molecule. Carbon atoms are black, hydrogen white, nitrogen blue, oxygen red, and phosphorus yellow.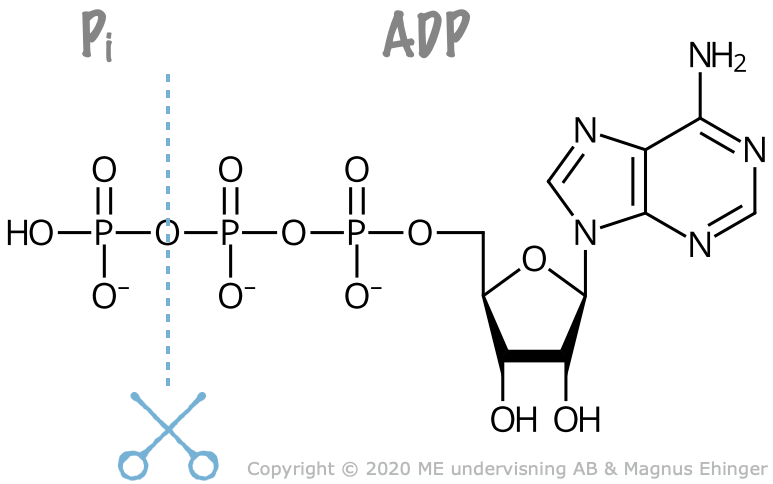 An ATP molecule may be cleaved into Pi and ADP.When an ATP molecule is cleaved into ADP + Pi, energy is released.
The cell uses this energy to perform energy-consuming reactions.
What's an "energy currency"? The ATP cycle.
The cell "pays" in ATP as soon as an energy-consuming reaction needs to take place.
The cell "gets paid" in ATP by breaking down e.g. fat and sugar.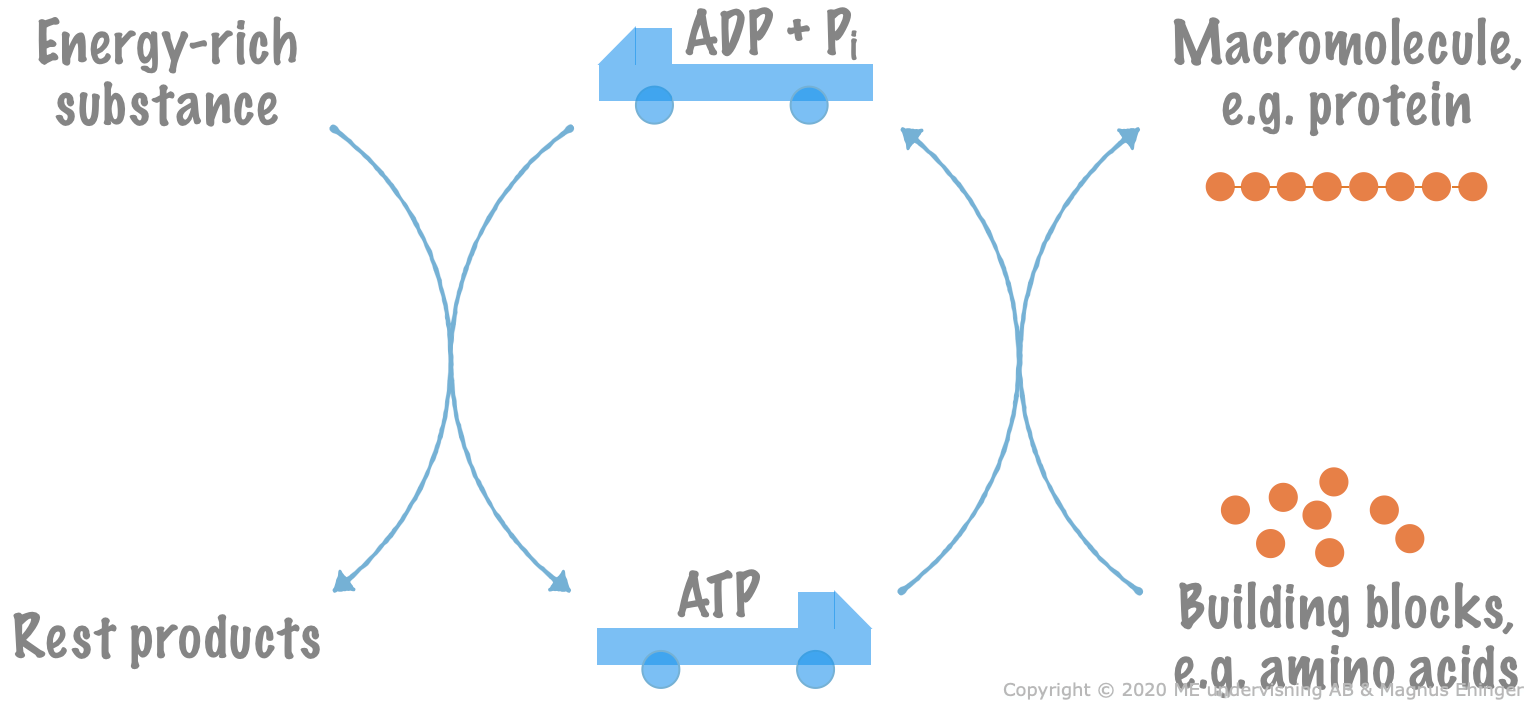 The ATP cycle.
From where do organisms get their energy?
Chemotrophs
Get energy through cellular respiration
Oxidation of sugar (glucose)
Cellular respiration
Glucose + oxygen → carbon dioxide + water + energy
C6H12O6 + 6O2 → 6CO2 + 6H2O + energy
The energy released is converted into ATP.
Phototrophs
Get energy from sunlight (photosynthesis)
Photosynthesis
Water + carbon dioxide + energy → glucose + oxygen
6H2O + 6CO2 + hν → C6H12O6 + 6O2
The energy in light (denoted "hν") is used to assimilate carbon dioxide and synthesize glucose.
From where do organisms get their carbon?
Autotrophs
Autotrophs use carbon dioxide as their primary carbon source while heterotrophs use organic molecules.Make their own "food" from CO2.
Heterotrophs
Eat other organisms
Examples: humans, fungi, most bacteria …
Different types of organisms
Organisms may be classified according to their primary energy and carbon sources:
Auto­trophs

Hetero­trophs

Type of organism

Photo­auto­troph

Chemo­auto­troph

Photo­hetero­troph

Chemo­hetero­troph

Energy source

Light

In­organic com­pounds

Light

Organic com­pounds

Carbon source

CO2

CO2

Organic com­pounds

Organic com­pounds